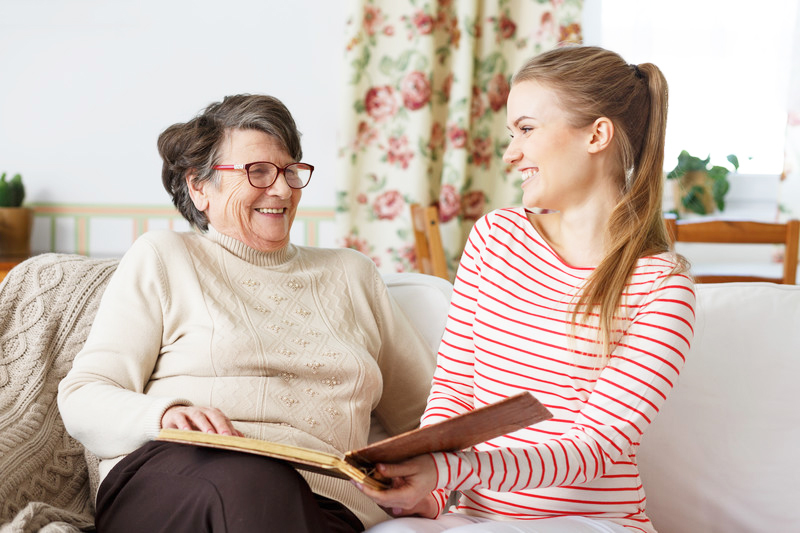 If your loved one has been diagnosed with dementia or another memory-related condition, they may need more extensive care and help in the long run. Their condition may be mild enough for them to continue functioning independently for the time being, but since dementia and many other memory-related conditions are progressive, their well-being and ability to care for themselves will deteriorate over time. It may start with forgetting to turn off the stove or missing a scheduled appointment, but it could progress to forgetting to take medication or forgetting the names of friends and family. If you're having trouble caring for a loved one with dementia, Alzheimer's, or another memory-related condition, you should consider looking into options for professional care.
Your loved one can receive the support and assistance they need in the comfort and familiarity of their own home, thanks to J&M Homecare Services' in-home memory care assistance. Our personalized in-home care services are intended to enable elderly and disabled adults in the East Bay, North Bay, and Central Valley areas of California who are living with dementia or another debilitating condition to continue to enjoy their independence in the comfort of their own homes. Our caregivers are equipped to provide the personalized, one-on-one care clients need to remain safe, comfortable, and content as they age in place.
Benefits of Professional In-Home Memory Care
You may have come across several assisted living and memory care facilities in your search for memory care in the Bay Area. But professional home care may be a better option for your loved one. Individuals with dementia and other memory-related conditions often want routine and consistency in their lives to help them maintain a good quality of life and avoid getting agitated or angry. Moving to a residential care facility may disturb their everyday routine and push them to adjust to a new, unfamiliar setting. This can agitate existing symptoms and lower your loved one's quality of life.
However, with in-home memory care, seniors may keep their current living arrangements and maintain their sense of autonomy, rather than having to move to a residential care facility. Seniors can also stay in touch with the outside world while spending time with a compassionate professional caregiver.
In-home care provides benefits for families, as well. If you've been providing care for a loved one with dementia, you may have started feeling exhausted or feel as though you have less time to dedicate to your family, your career, or your own needs. Professional memory care provides respite for family caregivers and gives them an opportunity to step back from caregiving responsibilities. When you hire a professional caregiver to support your loved one, you can take the opportunity to relax and recharge while having peace of mind knowing your loved one will continue receiving the care they need.
Why Families in the Bay Area Choose Home Care from J&M Homecare Services
When it comes to memory care, J&M Homecare Services stands head and shoulders above other home care agencies in San Ramon, Stockton, San Rafael, and the rest of the Bay Area because of our personalized approach we offer to each and every client. Therefore, your loved one will receive the care they require from a caregiver who is committed to ensuring their well-being and making independent living a satisfying option for them as they age in place.
Our caregivers can help with:
Light housekeeping
Medication reminders
Meal preparation
Personal care
Incontinence care
Mobility assistance
Help with running errands, grocery shopping, and picking up prescriptions
Transportation
Companionship
Wandering prevention
And so much more!
J&M Homecare Services is committed to providing our caregivers with the tools they need to provide great in-home memory care in a way that prioritizes the clients' comfort and safety. All of our caregivers are trained in The Positive Approach to Care (PAC) developed by Teepa Snow. The PAC is built around the physical and functional changes that happen in the brain of someone living with dementia and uses what is already known about brain function and how these changes impact how an individual functions to provide therapeutic and dignified support to seniors living with dementia. Through this training, our caregivers learn about common symptoms of dementia and how to differentiate these symptoms from common age-related issues, recognize that dementia is not a choice but a condition that can affect how someone functions, and how to care and support an individual with dementia in a way that helps them manage their symptoms while treating them with the respect and dignity they deserve.
Families may rest easy knowing their loved ones are receiving quality memory care from J&M Homecare Services.
Call Today!
San Ramon (East Bay)
San Rafael (North Bay)
Stockton (Central Valley)
Get Started with J&M Homecare Services
Want to learn more about our home care services? Contact J&M Homecare Services today to schedule a FREE in-home consultation!